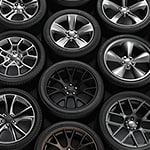 Whether you want balanced performance or dry road performance, you will certainly want to select your car's next set of tires as optimally as possible. For balanced performance, you will likely find all-seasons tires to be the best choice. For dry road performance, though, you will likely get a lot more value out of summer tires.
Acura of Laurel's team is quite understanding of our local drivers' various tire needs. An all-season tire is going to give you outstanding performance in not only dry conditions but also wet conditions. Its medium tread depths and long tread life will serve you well in many different conditions.
If you are a Laurel, MD driver to has a strong interest in speed and agility, then summer tires will provide a lot of value. Road-holding performance will be at a much higher level with summer tires than it would be if with all-season tires on your car.