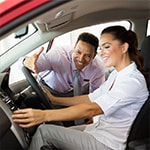 If you're in the market for a new vehicle, Acura of Laurel strongly suggests shopping the used market. Used vehicles provide exceptional reliability, but you pay only a fraction of the price of something that's brand new. So:
Be sure to pick out a vehicle that suits your needs. You want to choose something that has all the features that you need and want. Stick to a budget. You may have to sacrifice a few features, but you want to be able to make monthly payments without issue. Look at the vehicle history report to see if a vehicle you're interested in has been in an accident and if it has been maintained properly. Purchase a used vehicle from a reputable seller. You should trust that you're getting a reliable automobile.
Our Laurel, MD dealership wants to share some tips with you so you can purchase a used car with confidence.